Introducing the 10-Passenger School Van by Driverge
Efficiently transport 9 students and a driver with the 10-passenger Ford Transit School Van by Driverge. It qualifies as a Multipurpose Passenger Vehicle for school use, eliminating the need for a CDL driver and offering a lower cost of ownership.
Comfort & Convenience
Convenient center aisle layout for easier onboarding/offboarding; retains the original factory seats, body, and floor.
QVM Modified
Driverge is a Qualified Vehicle Modifier for Ford ensuring your conversion looks and drives like a factory-made vehicle, and your OEM warranties will stay in full effect.

We Take the Worry Out of Compliance
As a registered NHTSA vehicle alterer, Driverge can convert and relabel vehicles from "Bus" to "MPV" (Multipurpose Vehicle) by permanently removing seats so that they cannot be reinstalled. This results in maximum seating positions of 10 persons or less. This means your van will comply with Public Law 109-59 (Safe, Accountable, Flexible, Efficient Transportation Equity Act).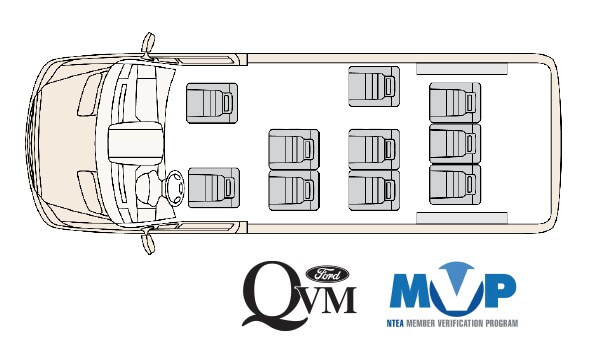 Driverge School Van Applications
To meet regulatory compliance, Driverge School Bus™ conversions use new, untitled Ford Transits.
• 2023 Models: Driverge offers T-350s with 148-inch wheelbases and all roof heights.
• 2024 Models: The 12-passenger option will be discontinued, so Driverge will convert 15-passenger Transit buses into 10-passenger all-purpose vehicles.
Download Our Free Guide on 4 Keys to a More Profitable Fleet
Today's full size vehicles offer the safety of uni-body design, improved gas mileage and more. Likewise, there are new innovations available in wheelchair accessibility that will increase it's use and time on the road.
This FREE 6 page guide will show you multiple ways you can save with a no-compromise, infinitely configurable accessible transportation vehicle.