The Ram ProMaster is an excellent full-size van for commercial use. The ProMaster is available in two lengths and two roof heights, and features our exclusive SmartFloor™ system, giving you over 1,000 possible seating configurations. With the Ram ProMaster, you have the flexibility to handle both wheelchair and ambulatory passengers with ease. In addition, the Ram ProMaster comes standard with the award-winning Pentastar V6 engine which delivers excellent fuel efficiency to a durable, dependable vehicle that is built to last!
A Full-Size Vehicle that offers MORE:
MORE Flexibility – over 1,000 possible seating configurations which can be changed in minutes
MORE Room – up to 76" interior height (with high roof), and an impressive 460 cubic feet of cargo volume (when seats removed)
MORE Options for Businesses – can move, add or remove seats to make room for luggage, cargo or additional passengers. Mobility options with wheelchair lifts also available.
MORE Savings – with the award-winning and efficient 3.6L V6 Pentastar engine, you will get an estimated 18 mpg City, 26 mpg Highway. That's as much as 50% greater fuel economy which means more money going right to the bottom line.
RAMP with LOWERING SYSTEM – A low maintenance alternative to power lifts for transporting people in wheelchairs or hauling equipment. Just lower the rear end of the vehicle and use the 35.8" wide ramp.
ProMaster 2500 – Long wheelbase (159") with High Roof (76" interior height)
Our Advantages
As the nation's leading commercial wheelchair van dealer, we are focused on being the one-stop resource for your mobility van needs. Our team of experts provides each customer with the best advantages in the industry, including:
Quick turnaround times
Superior craftsmanship
SmartFloor™ technology
Customizations based on your needs
Free on-site training
Routine service check-ups
Ordering a Ram ProMaster Wheelchair Van from MobilityWorks Commercial
MobilityWorks Commercial offers quick customizations and fast turnaround times.
Interested in ordering a Ram ProMaster Wheelchair Van from MobilityWorks Commercial? Call our toll-free line at 888-466-5504, send us an inquiry here, or view our current inventory.
Download Our Free Guide on 4 Keys to a More Profitable Fleet
Today's full size vehicles offer the safety of uni-body design, improved gas mileage and more. Likewise, there are new innovations available in wheelchair accessibility that will increase it's use and time on the road.
This FREE 6 page guide will show you multiple ways you can save with a no-compromise, infinitely configurable accessible transportation vehicle.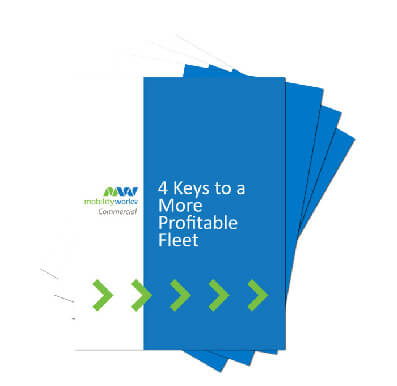 Download Brochure
Ram Promaster Information Sheet